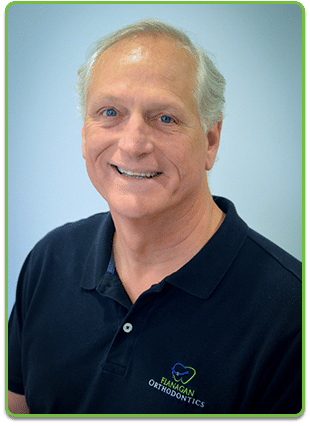 Thomas Flanagan, DDS is an accredited orthodontist. This means he has completed an advanced post-doctoral course, accredited by the American Dental Association, of at least two academic years in the specialty of orthodontics after four years of general dentistry training. Dr. Flanagan received his dental training at Emory University, where he graduated in the top of his class. He returned to the Chattanooga area and practiced general dentistry for five years before returning to Emory University for his post-doctoral training in orthodontics.
Dr. Flanagan is originally from Atlanta, Georgia, but moved to Chattanooga in 1975 to attend the University of Tennessee at Chattanooga. He earned a degree in Engineering and completed the additional pre-dental requirements during his four years there.
He was also captain of the wrestling team and ranked in the top 10 wrestlers in the country in his weight class. He was honored as the senior UTC athlete with the highest GPA and voted by the faculty as the single graduating senior who contributed the most to UTC during his four years in attendance.
In 1978, he married the former Susan Eady of Chattanooga and had three daughters: Beth, Katie, and Jennifer. Dr. Flanagan's devotion to and enjoyment of his orthodontic career has rubbed off on his daughters, as two have chosen to follow in his footsteps and pursue a career in dentistry.
Dr. Flanagan is no stranger to hard work and knows the commitment it takes to be a leader in the orthodontic field. He has served in various positions within the Tennessee Dental Association, including president of the Chattanooga Area Dental Society and the Tennessee Association of Orthodontists. He also maintains memberships with the American Association of Orthodontists, American Dental Association, and the Lookout Study Club.
His work experience in the general dentistry field, coupled with his engineering background, gives him an edge in managing difficult cases and appliance designs to achieve the best overall dental health and esthetics.
Since opening his orthodontic practice in 1990, he has dedicated himself to creating outstanding smiles for his patients using the latest technology available and making your overall orthodontic experience the best it can be.